thought i died, didn't you?
well, i'm still alive, probably due to the papaya pills i was popping all night. i love paul! but let me start from the beginning. i'll try to keep it short, but.... oh, come on. get real. by the way, the pictures are supplied by dex, my new camera, which was a present from adam and carmelita.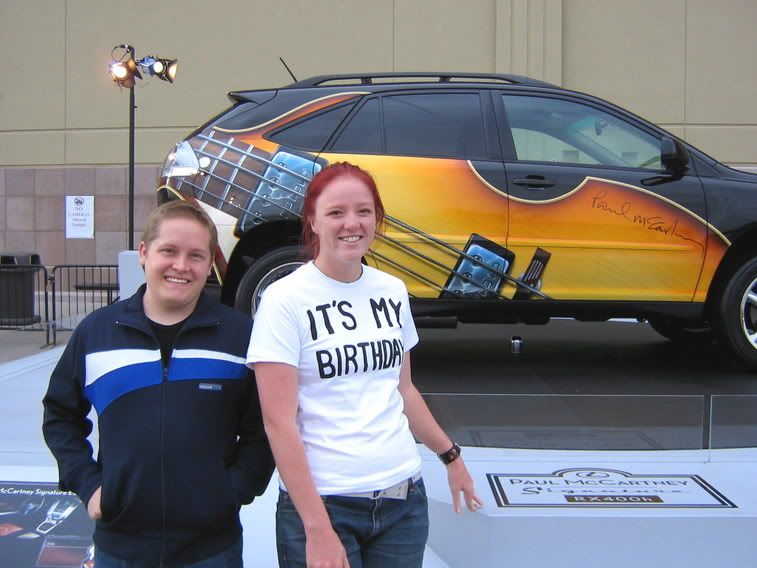 adam and i got to the glendale arena at three o'clock (about five hours early) and found it pretty vacant. adam left to get coffee and i hung around making friends with all the security guards, trying to figure out if i could bring in my banners or if i had to sneak them in. i was wearing a shirt that said "it's my birthday" on the front and "i (heart) paul" on the back. most of the security guards looked at my banners a little skeptically, but the tour crew kept coming up to me and saying, "good job! paul loves those banners!"
the tour crew turned out to be a lot more friendly and talkative than the guards, so i chatted with them for a long time too. they were really nice to me, probably because of my t-shirt, and kept giving me "tips" on when paul was going to get there and where i should wait for him to get a snapshot. paul got to the arena at six. i was standing with a group of a dozen or so fans and watched him get out of his lexus. he was wearing a white suit. i was snapping pictures, but i didn't expect to actually get a picture of him. i was more hoping that he would see the flashes and look up and wave, but he was running late, so he went straight inside. i was so excited, i called my dad right away and said, "dad! i just saw sir paul!" here's a picture of the line of black lexuses outside the arena.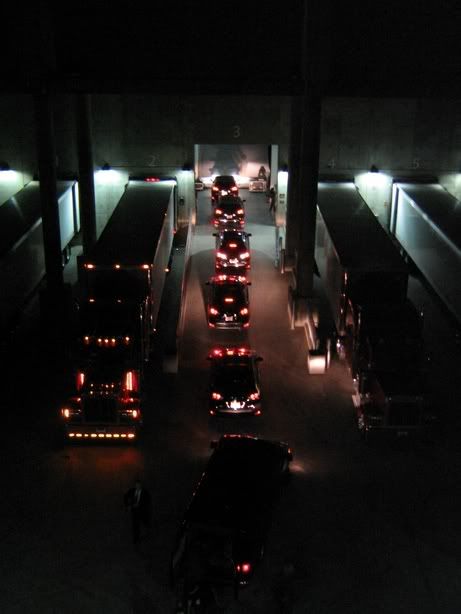 by this time adam was back, and he waited in line with me. the people around me in line wished me happy birthday and admired my shirt and banners, and the lady behind me snapped the picture below. it turned out that the banners
were
allowed, but a guard told me to leave the wooden dowels that i used to support the sides in the car. i just couldn't do that. i tied them to the inside of my leg with the shoelaces that i was carrying in my pocket for that very reason. i felt
really
bad about tricking those nice security guards, but i did anyway. i got in just fine. adam told me he'd meet me by the lexus display after the show, and then he left and then i was inside, on my own, thinking "come on stomach! don't flip out!" and all my papaya was gone.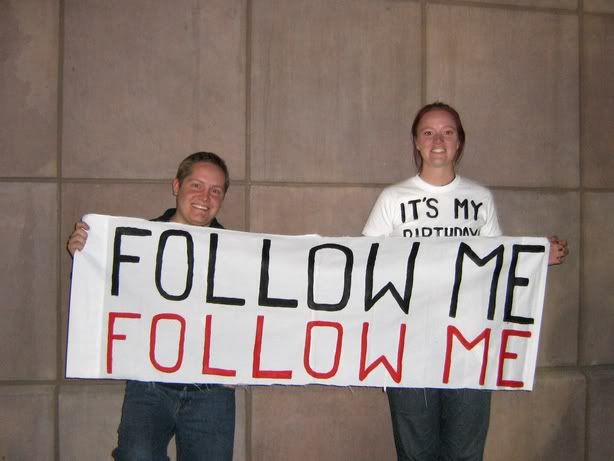 i found my seat among several "happy birthday"s and a few high-fives. everyone loved my shirt. my seat was pretty awesome, but there really are no bad seats in the glendale arena. i had a lot of fun talking to the people sitting next to me. they were all really excited and friendly. the show started, and paul came out singing, "magical mystery tour". i went crazy! it was so much fun.
the problem was that the people around me weren't nearly as excited as i was, and i felt bad about standing up and cheering when they were sitting and trying to be mellow. so i scoped the place out. about fifteen rows ahead of me, right on the isle in row G, there was a group of women who were jamming out the entire time. they never sat down. so during "i will", i went and stood next to them in the isle, and they greeted me like a long lost sister. all the people around them wished me happy birthday and ignored the guard giving me the evil eye. standing with them was a lot more fun.
when they figured out i had banners, they were all over me to hold them up. when paul started playing "follow me" i grabbed my banner and held it in front of my chest in the isle, where i could be easily seen by the stage, and sang my heart out. after a minute or two, i realized i was up on the big wall, the "follow me follow me" very visible for everyone to see. yay! after that song, paul thanked the crowd for all the "follow me" signs, but i don't know if he saw mine or not.
from then on, between every song or whenever the lights came up, i would grab my other banner, the one that said, "it's my birthday! blow a kiss?" and hold it up in hopes that paul would see it. the people around me were wonderful, they were so patient with my huge banner and were so encouraging. every time another song started and i ran back to my spot, they would say, "keep trying!" a few of them even tried to help me out, yelling, "paul, look over here!" i kept trying and trying, but no good.
finally, after one song, i glanced at rusty (one of the guitar players) and found him looking
right at me
. when i looked up, he blew me a kiss! yay! i jumped up and down and waited for him to point my sign out to paul, but he didn't. so i kept trying.
as the show progressed my chances of getting my banner seen were getting slimmer. there was less time and less talking between songs, as the songs were getting more and more popular and dramatic. i still didn't want to hold it up during the songs because i didn't want to block out the show for anyone, and i knew i probably wasn't going to get seen with out the lights up. i started to loose heart.
then, during "hey jude", paul got up from the piano and started "directing" the audience through the na-na-nas. you know... first the guys sing it, then the girls, then the balcony, and so on. the lights came up on the audience and paul was looking around at everyone and i figured, screw it, and up went my exceptionally large banner. and PAUL SAW IT!
and he blew me a huge flamboyant kiss. i freaked out. all the ladies around me freaked out. all the people around the ladies called, "did you see that? he blew you a kiss!" we screamed, beatlemania-style. next thing i know, i was back on the big wall. this time i turned around so the back of my shirt was showing. i checked over my shoulder, and "i (heart) paul" was visible above the band. yay! yay! yay!
when "hey jude" was over, he looked right at me and blew ANOTHER KISS! same reaction. and then and the end of the set, before the first encore when the band was leaving the stage, paul looked at me again and blew ANOTHER KISS! i was going crazy. brian, his other guitar guy, saw him and blew me a kiss also. it was so much fun! all the ladies gave me hugs and tons of people around me were
leaving their seats
to congratulate me and wish me happy birthday. oh my gosh, it was so perfect.
after that, you know, i could die happy. i didn't need anything else. the two encores were awesome, with song like "get back", "let it be", "sgt. pepper" and "yesterday", but i already got what i wanted. at the very end, i watched people throw things up on the stage for paul to sign. i had my liner notes and a sharpie in my back packet, just in case, but i was just fine. paul blew me a kiss.
after the show when everyone was milling around,
so many
people came up to me to wish me happy birthday, and they said things like, "ooh! we saw you on the big wall!" or "great job!" or "we hoped that he would see you!" one guy even told me how he thought it was cool that i turned around to show the back of my shirt. sweet. seriously, paul mccartney has the best fans in the whole world. they were all SO nice. and i ran into most of the tour crew after the show, too, and they all said, "see? he blew you a kiss! we told you!" hooray!
and of course it was SO freakin SWEET to hear so many awesome beatles songs. "got to get you into my life" was so much fun, and i sang the entirety of "yesterday" with my arms around the ladies that adopted me into their seats. "till there was you" and "let me roll it" were my other favorites. it was so much fun.
when i got back to adam's uncle's house, i wrote scuba a message saying i was going to bake him a cake, every day, three times a day, for the rest of my life. i saw paul. and you know what?
he saw me!!!!