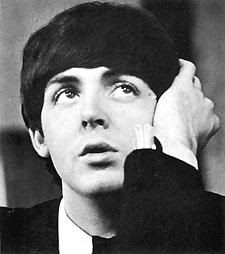 paul's a cutie.
today i skipped church o stay home and paint more banners and tshirts. my dad cut up a dowel for me to slip inside the edges of the banners so i can hold them over my head by myself. the second banner says, "follow me" twice, once in black and once in red. in one of paul's new songs, one that he's playing at the concert, the line is, "you hold up a sign that reads 'follow me'". so that's where that came from. i'm SO EXCITED!
i'm driving back at six tomorrow morning, and i'll spend all afternoon working on the mechatronics take-home test. i hope i can finish it! with the concert so close, everything is back burner in my mind, but i could really use a good grade on this test. school will still be around after the concert.
that is if i don't die from excitement. i actually wrote a will today. josh gets my stereo as long as he had absolutely nothing to do with my death. and jon gets my car. and the list goes on, but i'm really, really tired. it's time for bed.
and when i wake up, the concert will only be two days away.