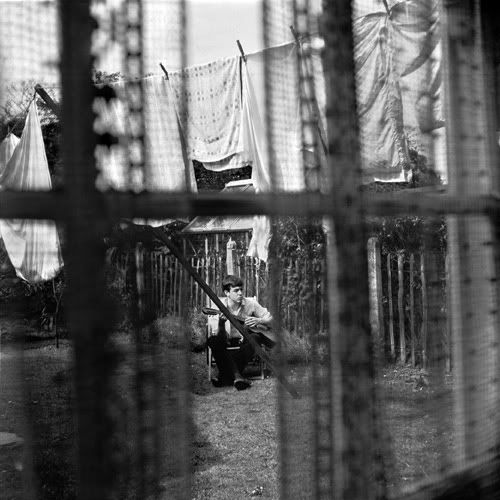 i got one day kids! i'm FREAKIN OUT!
so i thought an appropriate picture for the last day of my countday would be the picture i told you about... the one on the cover of the new cd that i bought. the opening line to one of the songs is "looking though the backyard of my life..." i wonder if there's a connection or not. hmm.
so my grandparents are going to be here any minute to take my car to las cruces. already today i packed both sets of bags, and finished my t-shirt, made the brownies for my hockey buddies, AND went to class (how goody-goody of me), and now i'm just kind of freaking out thinking about what i could have forgotten. oh, and i'm saying good-by to my computer. it's going to las cruces with the car, so don't expect a post for day zero. or day after...
i still have to run some errands and dye my hair. wow...
i'm going to see paul tomorrow! i'm so stoked! i'm really happy, this is so great. it's nice to tell people i'm doing great when they ask, and actually mean it, too. i haven't been sad about mike in like a whole week. that's huge. yay! scuba is the coolest person EVER. i think i'll bake him a cake.
so adam and i are leaving as soon as he's done with his senior design presentations, and then we're going to albuquerque to catch our flight, and then we're having a
driver
and a
lincoln town car
pick us up at the airport in phoenix. of course, we're staying at his uncle's house and we're going to drive around phoenix in the family beamer. sweet. and we're going to go see harry potter.
and then i'm going to see paul mccartney!!! hooray!!! yes, this is going to be awesome. i hope i don't die of excitement. but if i do, it will be okay. i will die a happy girl.
yeah, sorry i'm so all over the place right now, but as you can tell i've got several things running through my mind. forgive me please. i don't even know if any of this made sense at all. this is not the day for good writing. it's the day for good music.
i'm so happy.