where were we, day five?
day five- MGM studios, disneyworld
curtis absolutely insisted that we sprint straight to the tower of terror, to "get there while the line is short". ha. apparently everyone else had the same idea, which meant that just moving to that side of the park was sort of like standing in line. the wait was long, but it was worth it. entering "the twilight zone," as it were, was so much fun. the ride is really interesting, because they try to creep you out with that spooky guy, and then all of a sudden they just
drop
you. it's scary. i actually grabbed scuba's hand, which was a little awkward.
after that was the rockin' rollercoaster, which, well.... rocked. seriously. it was my favorite. meeting steven tyler in real life would have been better, but it was a good runner-up. nick and i went on that one twice.
of course there was star tours (nick was
freakin out
, i can't believe how much lucas stuff he bought). next came the great movie ride, which was pretty boring really, but dumping me in the middle of munchkinland covers a multitude of sins, so i approved in spite of the bad tourguide. nick and i split from the other two to watch the beauty and the beast show. yeah, my idea. i don't think he was too wild about it until the barbershop quartet opened the show, cleverly disguised as technicians. neat.
and then we get around to the interesting thing about MGM... it sort of exists to say, "hey kids, this is how you make a movie, isn't it neat?"
we went on the backlot tour, which showed us how natural-disaster special effects were done. we toured the star wars and narnia and indiana jones props. we watched the extreme stunt show, you know, with the guys falling off of buildings and cars jumping semis and jet skis and fire and stunt driving... the cool thing about that show was that they were pretending to shoot a movie the whole time. our host was the "director's assistant". there were actors and stuntmen and "action!" and "cut!" and it was sweet. the indiana jones show was the same. they were "shooting a scene" and "harrison ford's stunt double" talked to the audience about what he does and how you shouldn't do it at home. they went through several parts of
raiders of the lost
ark. it was really cool. not as nostalgic, but a lot more fun than the magic kingdom. and do you think that my big little brother who wants to make movies had fun?
but of course the nostalgia came in the form of fantasmic, which we all met up for at the end of the day. that was awesome. i don't want to ruin anything, okay, but mickey wins. he slays the dragon.
the dragon.
day six- universal studios
on day six, curtis and scuba were a little theme-parked out. they thought, let's not go to universal but hang out with gabe instead. nick, who does not even know gabe, gave me several significant looks during these conversations, which clearly said
"nooooooooooooooooo!"
i articulated his thoughts for him, and told the guys that he couldn't help it, he was an artist. this is how it happened that nick and i ended up going to universal studios by ourselves.
nice.
first of all.... the inevitable comparison of parks. i was paying attention all day so i could tell gabe what it was like, because he's never been there (which he may have been a little bitter about, and understandably so, since he lives there). here's what i came up with:
universal gets a plus for being much, much less crowded. our longest universal line was way shorter than our shortest disneyworld line, fastpass or not. we walked right on to most of the rides and did everything we wanted to do... a few times. and universal was...
cooler.
a little less princess and little more jaws. it was just as fun, but not as happy. you don't get the feeling that every member of staff exists for the sole purpose of making your day better. you do, however, get the feeling that sometimes you might actually be in danger. there was lots of fire, and the explosions were much bigger and closer. all in all... i liked it better. but i'd still rather work at disney.
rides:
jaws rocked, and our tour guide girl was adorable. "oh my gosh, sharks!" she was cute.
men in black was so much fun... they give you a little ray gun and have you shoot the aliens as you're riding a long. it's great. i thought i was going good with 62,000 kills, until nick told me he got 128,000. well.
the mummy was AWESOME. as a mechanical engineer, it's hard for me to get a real thrill on a roller coaster. i have complete faith that there's a safety factor of like five at all times and i am in no danger whatsoever. but when the mummy gets pissed at you and engulfs the
entire room
in flames... we're talking floor, ceiling, walls... and you think, "this ride could go so wrong..." i love it.
the hulk was awesome.
the dueling dragons was really, really cool.
jurassic park was
so
much better than splash mountain.
dr. seuss land was the cutest thing
ever
, and i made nick go on the carousel filled with seussian animals. it was SO FUN. and i made him take a picture of me and what was probably my ziffer-zuit-zang, or something... i'll put that picture at the end.
spider man kinda sucked, i think it broke while we were on it, because we went sort of sideways and sat there for a while and the screen went dark. according to the other passengers we were supposed to free fall for a while, but that sure didn't happen. so it was bad, but not nearly as bad as...
back to the future. talk about a ruined day. i recovered from the motion sickness after a few hours, but nick looked "blah" for the rest of the day and refused to go on the dueling dragons with me. i think this star tours-style ride actually
was
made in 1985 and has not been updated since. the motions of the car don't quite match the screen, and if you're in the back seat of the eight-passenger delorean you get to smack your head against the fake flux capacitor the entire time. seriously,
do not go on this ride
. no one likes it. cool props though.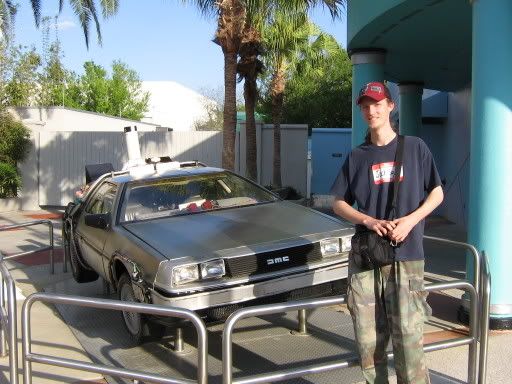 "experiences"
not quite rides, not quite shows, these attractions pretend to stick you in a natural disaster... like the MGM backlot tour, only much, much cooler. the twister experience puts you at that drive-in theater that's in the movie. the tornado comes and throws cars and stuff at you. it's pretty cool. the earthquake, however, totally rocked.
so they put you in this windowless "subway" that's really one of those parking lot trams and pull you into a stop. i'm thinking, okay, the room will shake, the floor will crack, no big deal. look, you can even see where the floor is going to split. the earthquake starts. again, the engineer in me is thinking, "whee... i'm bored." but then we really started shaking. hmm. AND THEN! the ceiling caves in. but when you're on a subway, the ceiling is the street above, and up there you can see skyscrapers falling down and a
semi is sliding down sideways RIGHT TOWARD YOU!
it hits a pole and explodes in your face! and by this time you're shaking with many more degrees of freedom than you expected of this simple tram. AND THEN! hundreds and hundreds of gallons of water come rushing at you from the hallway on your right, and never mind why the street above is flooding, the point is,
you're going to drown!
but somehow, this really very impressive body of water rushing towards you goes down a drain beneath the tram that you didn't notice before, is that thing shaking, too? and then there's fire, just... everywhere. everything explodes. just when i'm thinking, "in real life, no one survives this..." the lady comes out and congratulates you for surviving.
yeah, that one was really cool.
shows:
shrek 3d was great, especially since the characters are all voiced by the original actors. people suck at imitating eddie murphy.
the terminator show may have been the best part of the entire trip. no, the late-night ferry ride was better... or was it? hmm.
but the real shocker was beetlejuice's monster rock show. we went at three, right after the disgusting back to the future, because we thought that sitting down for a bit would be best. unfortunately, everybody thinks the same thing at about that time, making three o'clock the absolute worst crowd for the poor live action monsters that sing rock and roll songs. so everybody was sitting there thinking, "i'm tired," "my feet hurt," "i'm motion sick from that blasted back to the future ride," or "i wish the kids would stop crying." except me.
i was jammin out. beetlejuice i could have done without, he was sort of lame, but when the wolfman, frankenstien and his bride, and dracula came out wearing metallic clothes and rockstar makeup... oh man. friends, you do not know humor until you hear the bride of frankenstien singing "i will survive." it was SO HILARIOUS! not to be outdone, dracula has to sing "livin la vida loca." oh my god. it was awesome. check out frankenstien:
come on. that's funny.
when the park closed we went to the hard rock cafe, orlando, which nick says is the biggest one in the world. we had to wait like an hour for a table, but it was worth it because we got our food in like three minutes (no joke) and billy idol was our server. he even let me take his picture.
stay tuned for the exciting conclusion of spring break...