by an sudden and odd turn of events, i actually flew in a small aircraft from socorro to hobbs and back again on wednesday with ryan, elliot (my co-workers), dr. ghosh (my boss), and dr. romero (my boss's boss) to check out the site where we're actually going to use this machine that we're building. we played cards in the plane. i won. i beat my boss's boss at cards. bwah hah hah.
but much more interesting than that was how green,
really green
, the desert was below us. i mentioned before how much it's been raining. i don't think i said that it was
all over the state
. albuquerque, socorro, escondita, magdalena, elephant butte, deming, hatch, alamogordo, las cruces and el paso have
all
had problems with flooding this month. albuquerque and el paso are roughly 300 miles apart... that's a lot of flooding.
and from the looks of it, the places that haven't been flooding are getting plenty of rain, too. the ENTIRE desert is green. i saw quite a bit of it during the plane ride. well, i think white sands is still white, but this doesn't happen very often. it's usually brown, i promise. i can't remember when new mexico has ever had this much rain... and it's all over. hobbs was all green with little square patches of brown where the oil wells are. the contrast made it really obvious.
i didn't get pictures from the plane, but here's a couple i took driving from socorro to las cruces later that day: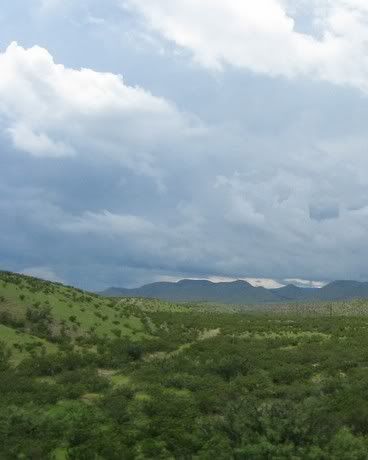 i mean look at that! it's green! really green! okay, this might not seem like much for people in other parts of the country, but it's really unusual for us.
this is the lake (and before you make fun of me, non desert-dwellers, it's really long and thin, okay?). it actually looks sort of full. and the hills are all green. it's so strange.
i drove back to socorro this morning, and it was raining almost the entire way. i think most new mexicans can tell you that rain on the highway usually lasts about ten minutes or so before you're through it, but this was almost two hours... and there was fog and low clouds and actual
standing water in the desert
. no kidding. i really wanted to stop and take some more pictures, but i was afraid i'd be late to my first class... yay first impressions.
here's one of socorro's own "m" mountain, for your viewing pleasure.